manual ion lithium batteries
Our heated socks, gloves and clothing come with separate batteries. These are rechargeable ion lithium batteries. Here you can read important information about the safe use of these batteries. Improper use will shorten its life and can cause unsafe situations.
What is an ion lithium battery?
An ion lithium battery is made of light metal and has a high energy density (amount of energy per unit mass or volume). The energy is created by a reaction between lithium and manganese dioxide. They are much more powerful than regular batteries and also last a lot longer.
That's why you come across it in products where volume and weight are important. Not only in our heated products, but also in your phone, laptop and battery-powered tools.
Their use is safe but if damaged or exposed to heat or water, lithium batteries can ignite. Therefore, always read our manual carefully so that you use the batteries safely.
What batteries come with the products?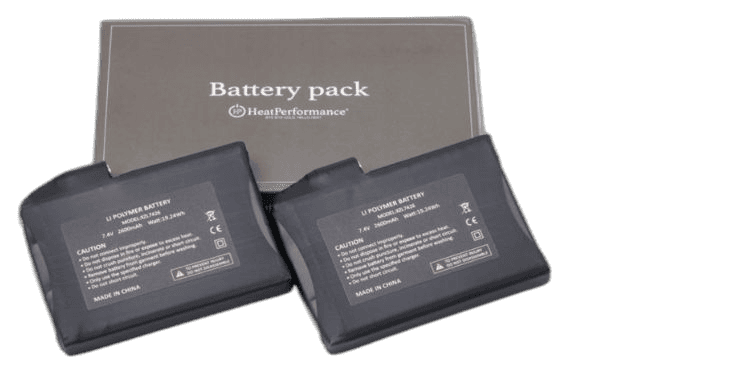 The following batteries may be included with your product:
Rechargeable ion lithium 7.4 volts – 2600 mAh battery
Rechargeable ion lithium 7.4 volts – 3000 mAh battery
Rechargeable ion lithium 7.4 volts – 5200 mAh battery
Rechargeable ion lithium 7 Volts – 2600 mAh lithium, from Volt brand
Rechargeable ion lithium 7 Volts – 3400 mAh lithium, from Volt brand
Rechargeable ion lithium 7 volts – 5000 mAh lithium, from Volt brand
Before first use:
Check the battery for damage. A damaged battery should not be used and can be exchanged free of charge. To do so, contact us at info@heatperformance.com.
Fully charge the battery before first use. Use the supplied battery charger for this purpose.
While charging:
While charging, a red light flashes on the charger.
The battery charges in about 4 hours.
When the battery is fully charged, a green light is lit on the charger.
Do not leave the battery on the charger longer than necessary. If necessary, set a timer after 4 hours.
If you charge the battery to 100% every time, you can expect 500 charge cycles.
For longer life, you can charge the battery to about 90%. If you do this consistently, the lifespan can reach as many as 1,000 charging cycles.
Do not charge the battery unattended. Make sure you are always around. Charging can be done, for example, when you're working at home or during an evening watching TV. Never charge the battery overnight.
You can recharge the battery even if it is not completely empty. This does not shorten the lifespan.
Do not charge the battery in direct sunlight. It is best to charge the battery at room temperature.
During use:
Be careful when taking off and putting on your socks/gloves/clothes so that the batteries do not bounce on the floor. It is recommended to put on your socks/gloves/clothes first and then connect the battery. This also applies when removing your socks/gloves/clothes.
Connect the battery to the power wire in the pocket. Press the power button for 3-5 seconds to turn the product on at the highest setting. Press again to adjust the position.
Do not use your battery-powered product while sleeping.
Always turn off your product immediately (or in a lower setting) if you feel it starts to get too hot.
Our battery operated products should not be used by people who are unable to put on or take off the socks/gloves/clothing themselves.
Do not allow our products with batteries to be used by children or keep them near children.
After use:
To prevent slow battery drain, we recommend disconnecting your battery after use. So it is not enough to just use the off button after use.
Want to wash your product? If so, always remove the batteries first and place the cover on the power cable. For further washing instructions, see our product manuals.
This is how you store the battery(s):
It is best to keep the battery when it is about half full. The fuller the battery, the faster it begins to oxidize. This limits the lifespan.
Don't just leave batteries lying around anywhere but store them safely in a box that you place in a dry, well-ventilated place.
Do not store batteries in a metal box to prevent short circuits.
Store batteries at room temperature or slightly cooler. Not near an oven, not in direct sunlight, not in the refrigerator, not in a humid basement. Not outside in a barn where frost may occur.
It is recommended to charge the battery at least once every six months for longer life.
Take old batteries to a collection point.
Attention!
Don't drop or bounce your battery. When in doubt, do not use again.
Stop use immediately if the battery is deformed or damaged. A damaged battery can ignite.
Avoid contact with water. Contact with water may cause the batteries to ignite. Around our batteries is a plastic layer to protect against moisture. Never remove this plastic layer!
Avoid exposure to heat. Never place batteries on a heat source such as a heater. Never place the battery in the sun. Exposure to heat may cause the battery to ignite.
Warranty and longevity
The batteries have a 6-month warranty, provided the batteries have been used normally.
To our batteries