Hi! Welcome to our site. We're pleased that you want to know more about us. We are Erwin Wooning and Lobke Buijs – professional partners and life partners. You can read all about what we did to get here at the bottom of the page. But we'd like to start by telling you more about HeatPerformance®, and how it all began. And how could it be otherwise. It all started when Lobke decided that she'd had enough of cold feet…
What doesn't belong in the list?
Whenever possible, we'll be at the beach with our children and labrador. No matter how cold it is, we always enjoy a game of jeu de boules or just kicking a ball around. Winter sun, family time, enjoyment, cold feet. It's a nice list, but something's out of place there! Those cold feet! I don't care much for them. Once you've got cold feet, you'll struggle to get warm. There had to be a solution.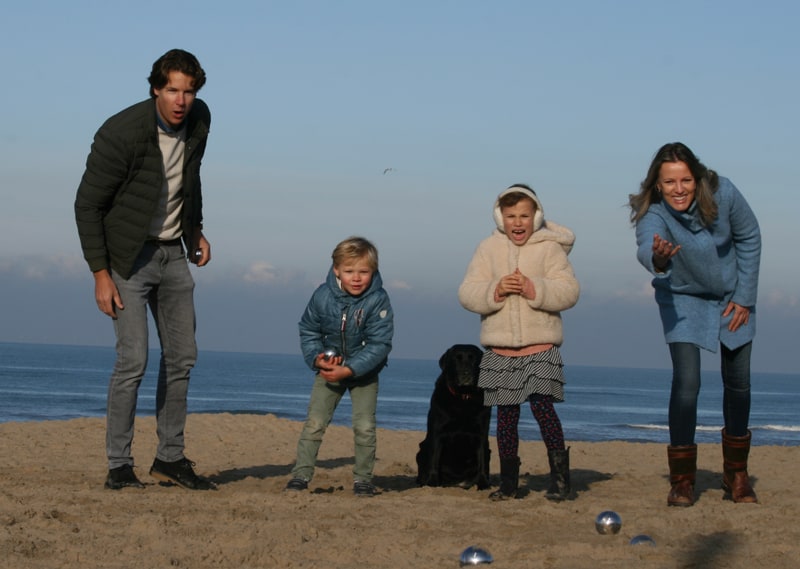 That's how the seed was planted…
My search began on the internet. Was there such a thing as 'heated socks'? I ended up with microwave socks – they're very nice, but they only fit in your slippers. And, maybe you've come across them yourself, heating pads– handy pads for in your glove or sock. Unfortunately, they can only be used once. Finally, hallelujah, I found electrically heated soles and socks, which I got really excited about. The thing is, I have pretty wide feet, so I could only wear them in my widest winter boots. And that's where the seed was planted…
…and from that seed grew something wonderful!
We started looking for manufacturers worldwide and a whole new world opened up to us. My desire for a thin heated sock and a thin heated sole eventually culminated in an elaborate (out of hand!) range of products. That's because everything just seemed so great to me! A handy heated pillow that you can take with you in your handbag for out on the patio, heated slippers, a heated hat, a heated sleeping bag so you can sleep in the garden with the children… I'm sure I wasn't the only waiting for those things.
Soft, durable, waterproof… did I forget anything?
We developed test product after test product. What were the thermal conductors going to be made of? Thin enough that you don't feel them in your socks, flexible enough that the insole remains flexible, durable enough that they last. What materials would be the best for our heated gloves to make sure that they are windproof and waterproof as well as breathable and durable. Socks that are not only wonderfully soft but that survive the washing machine as well. A laundry list of questions and a mountain of test samples later, we have put together what we think is the ultimate range of heated products From heated socks to heated underwear; they all make me just as happy.
I hope our products do that for you too! If you think that something is missing from the collection, or have any ideas on improving our products, please let us know. We'd be happy to give it a go!
We wish you lots of warmth :).
Lobke Buijs and Erwin Wooning