When can I use this heated jacket?
For all of your outdoor activities, including hiking, cycling, skiing, snowboarding, golfing, horse riding, camping and fishing.
Also great for around the house on cold days.
Ideal for those working in cold conditions.
Great for people who often suffer from stiff muscles and joints.
---
Features
Volt's mission and goal is to develop heated products to help people feel good, regardless of cold temperatures. The Zero Layer® heating system is used in every Volt product for efficient, powerful heat transfer.
This heated jacket has a heating system with 3 zones. 2 zones are located at chest height, on either side of the zip. 1 zone targets the top of the back.
Select the heat level at the push of a button: low, medium or high. Choose the right temperature according to your environment.
In the highest setting, the battery provides heat for about 4-5 hours, in the lowest setting for about 11 hours. Depending on the ambient temperature of course.
The high-quality material mix keeps you warm and dry: the heated jacket is made of padded nylon for optimal insulation. The sleeves and shoulders are made of soft shell, for optimum freedom of movement and for excellent protection against wind and weather.
Spandex is processed in the outer layer, making the pullover slightly elastic, which ensures optimal freedom of movement and a perfect, tight fit .
Also very nice: this jacket can be washed in the washing machine if you protect the cord with the supplied rubber cap.
With sporty light blue accents at the sleeves and zipper.
Nicely fitted model with a stand-up collar and hood.
With fashionable stand-up collar, zip in contrasting yellow and bold stitching for a sporty, stylish look.
Equipped with an elastic inner cuff with thumb hole, so the sleeve stays in place with every movement.
---
Choose the right size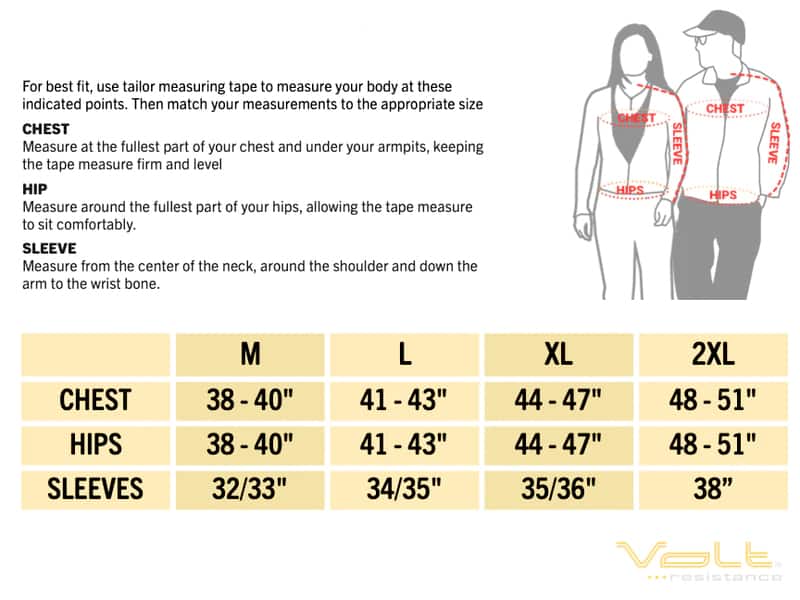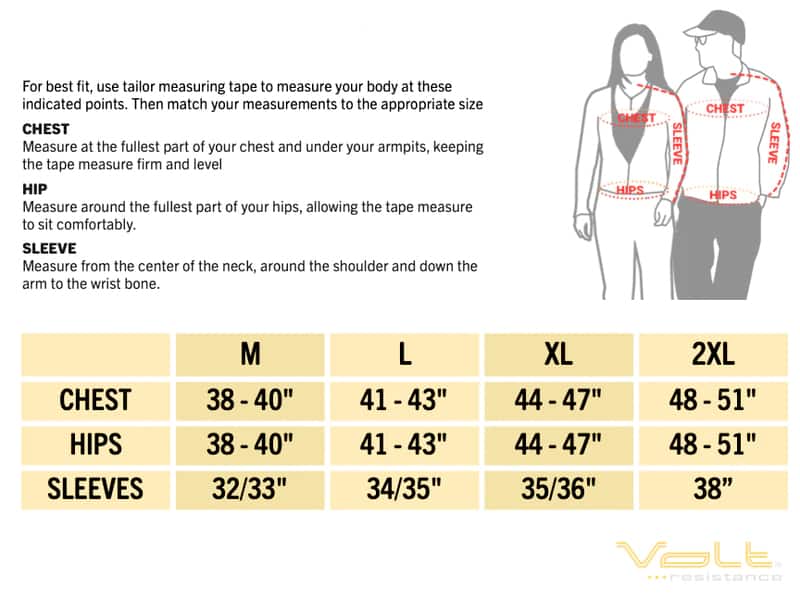 1 inch = 2.54 cm
---
Material
Softshell combined with padded nylon.
---
Battery
VB5TEN 10000 mAh rechargeable USB battery. Provides heat for between 4-5 and 11 hours, depending on which heat setting you use and the temperature of the environment you are in.
---
Number of heating points
The heating system consists of 3 zones. 2 zones are located at the front at chest level. 1 on either side. The third zone is located at the back, at the height of the mid-back/upper back.
---
What exactly do I receive with this product?
– 1 x Heated Volt Heat RADIANT jacket – black
– 1 x VB5TEN 10000mAh USB Rechargeable Battery
– 1 x USB Charging Cable
– User instructions
---
Warranty
This product comes with a 6 month warranty.