There is nothing like going out into nature on a clear cold winter's day to hunt, the sun gives a warm glow to the trees and plants and with every step you feel the snow crunching pleasantly under your boots. With binoculars in your hand and your rifle at the ready, you scan the sky or fields for movement. Certainly, nothing more delightful than that. But those cold hands and feet often spoil much of the fun.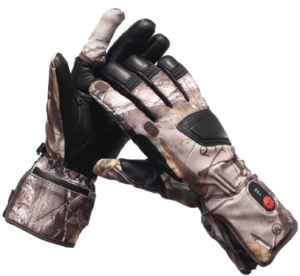 Heated hunting gloves
HeatPerformance® has the solution: heated hunting gloves. These gloves incorporate a unique heat system that keeps both the fingers and the back of the hand warm at the touch of a button. The glove has 3 settings, with the push of a button you can adjust the heat to the ambient temperature and get rid of those cold fingers while hunting.
Features
The hunting gloves from HeatPerformance® come in a nice model with an attractive camouflage design so that you are less conspicuous. They can withstand rough handling thanks to the use of high-quality materials: supple goat leather combined with softshell. The multi-piece construction follows the ergonomic shape of your hand, ensuring a comfortable fit. Of course, the gloves are wind and waterproof as well as breathable.
Detachable index finger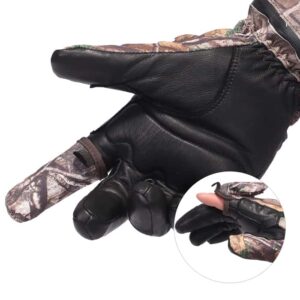 Nothing more annoying than having to take off your gloves to operate your gun while hunting. These hunting gloves also have a detachable index finger which keeps your hands warm, even when reloading your gun or operating your smartphone, for example. The disadvantage of this is that the index finger is not heated, but well, we take this inconvenience for granted.
Batteries
The gloves come with rechargeable 7.4 V – 2600 mAh batteries that provide up to 8 hours of warmth on the lowest setting and 2.5 hours of warmth on the highest setting. The batteries can be charged simultaneously on the dual charger and are fully charged within 4 hours. If necessary, take an extra set of batteries with you on your hunting trip. And what's more, the battery is anti-freeze. Even at the coldest temperatures, it controls the heating system.
Heated socks and clothing
For the hunters among us who regularly suffer from cold feet, HeatPerformance® has a nice collection of heated socks. For example, our heated ski socks, which fit perfectly inside your boots and keep your feet warm for between 3.5 and 10 hours, depending on the ambient temperature and the heat setting.
By the way, it does not stop at socks. HeatPerformance® is also the place to go for heated thermal clothing, body warmers and jackets.