I speak fully for myself, but this is one of those products I just cannot live without. Really, I'm not exaggerating, I'm so happy with these lovely socks, I'm happy to take a moment to tell you all about them. : )
As someone who is perpetually cold, I started looking around the world of heated products late in 2020. I looked and looked – at everything that's possible, and everything that isn't. It's no surprise that I fell for the heated sock. No more cold feet, yay!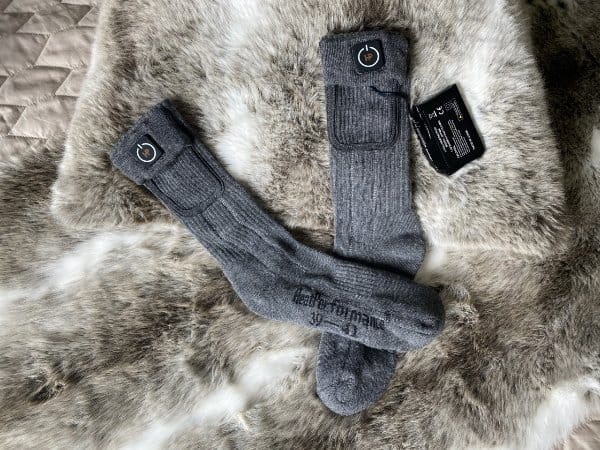 By now I have several (a pile) of test pairs lying around. Some are great and some are totally unsuitable unless you don't care about comfort and want to join the ugly trend. Anyway, I enjoyed trying out most of the heated socks, but what bothered me about all of them was that I couldn't wear them in my regular trainers or shoes. And that accounts for most days of the year. All were thick, too thick. Logically so – heated socks are primarily designed for wintersports enthusiasts and for people who work in extreme weather conditions. They're not designed for a Dutch woman who's already suffering icicles in her regular shoes as soon as autumn comes. And unfortunately, I also have slightly wider than average feet, which doesn't really help either.
But if it doesn't exist yet, it can be developed. I'm sure I'm not the only woman who wants to look nice in a nice pair of shoes or ankle boots, but would prefer not to have to stuff a thick wintersports sock inside. So why not, we thought – we'll put on our naughty caps and see if there's a way to develop something ourselves. So off we went, researching, finding manufacturers, testing materials, the thermal conductors had to be as thin and flexible as possible and still deliver powerfulheat. And tada! Drum roll… the first thin heated sock that fits all of your shoes (well, not your pumps)!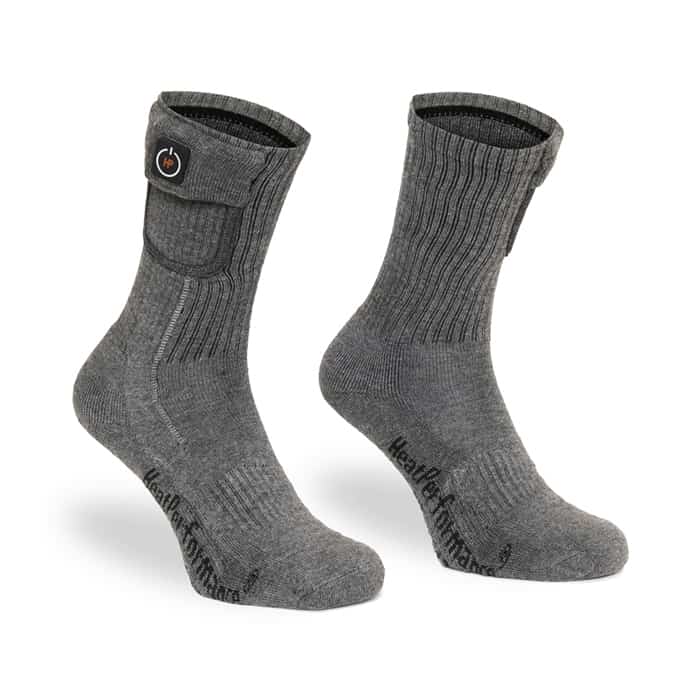 This is it, my pride and joy:
Super thin heated socks
Soft, strong, breathable and they're great to wear. And most importantly, they will keep your feet nice and warm on those inclement autumn or spring days when it's just not yet warm enough.
I'll have a pair too!
Not only did we look at the thinnest possible thermal conductors, the sock also had to be soft and breathable. And of course of a fine quality, not that you can pick the fluff off after wearing and washing it a few times. It took some testing, butfinally we did it!
And then I was left with the batteries, you can't deny that you need them and you have to leave them somewhere. Even though we've kept the battery as small as possible, I'd rather not carry it in or above my shoe. We found the solution in handy extension cables that you can use optionally. The wire runs from your sock to your pocket, so that's where your battery is. I especially like that with skinny jeans. With a boot I do leave the battery in my sock, then you can't see it. That's how low we kept the sock.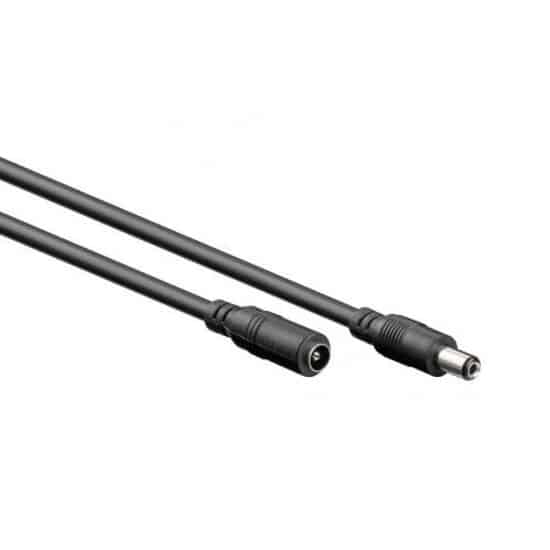 Convenient extension cables
These fine extension cables allow you to put the battery in your pocket, keeping your sock as thin as possible. It's a great solution if you wear a low shoe or skinny jeans, for example.
Shop extension cables
These are my favourite heated socks. Autumn, winter, spring, I have warm feet. I love them. These are my favourite heated socks. Autumn, winter, spring, I have warm feet. I love them. I hope you will be as happy with them as I am! You can always let us know.