Suffer from poor blood circulation? Undersigned can totally sympathize with you. Not only in winter but on all days when the temperatur drops below 20 °C, my hands already feel cold. Not a little uncomfortably cold, but – and especially if I sit still for a long time – really cold. How many times in a day I turned on the hot tap to warm my hands for a while. Now I can thankfully leave that tap closed as I have found a fine and durable solution with my heated inner gloves.
I remember it well. A few years ago, in 2019 to be exact, when the first days of autumn announced themselves, I sat at my laptop with cold fingers. I could not concentrate well and tried in vain to warm my hands on a cup of hot tea. Done I was, so done with it. There was still a whole winter ahead, how on earth would I get through it?
I ended up trying out different types of gloves. Thin gloves made of polyester and cotton proved too cold. Thin wool gloves, they turned out to be too thick. Gloves without fingers, no idea why they exist because they did nothing for me. Silver gloves, nice idea but I didn't feel they retained heat. And besides, my hands were cold, what heat was there to hold?
Jokingly, I said to my partner that they should come up with thin gloves with a heating fuction after all. The soft little voice in the back of my head grew louder and louder, until I could no longer ignore it. What if ìI was going to invent those gloves. If I suffered so much from cold hands, I'm sure I wouldn't be the only one in the world.
And hup there we went to work. Sample after sample we developed and tested until we were satisfied and renamed our newest addition our HeatPerformance® INDOOR gloves.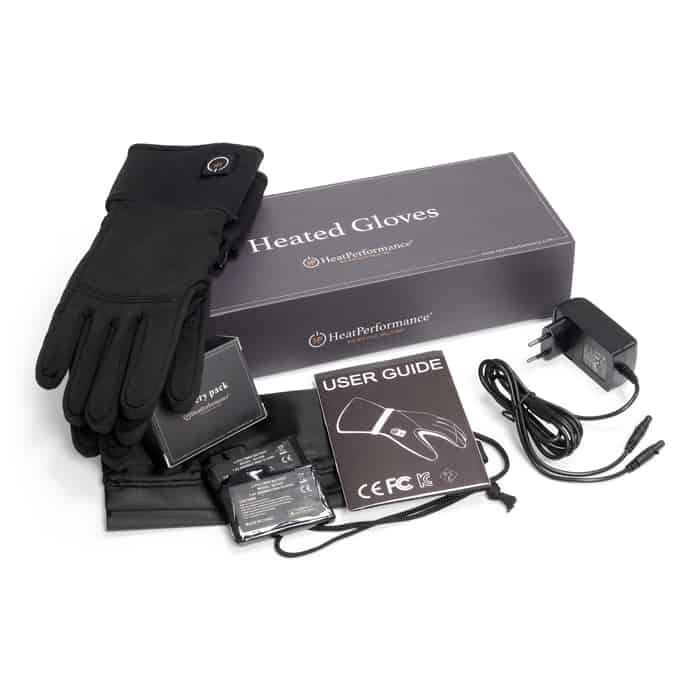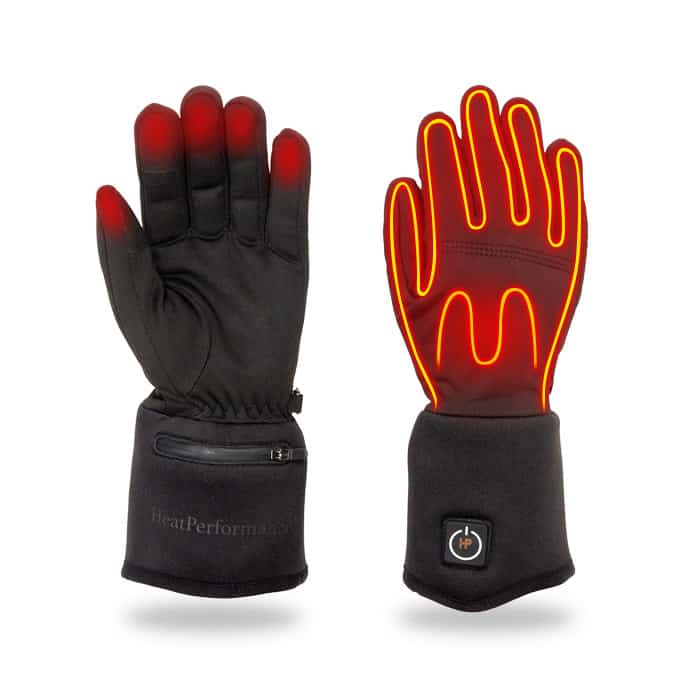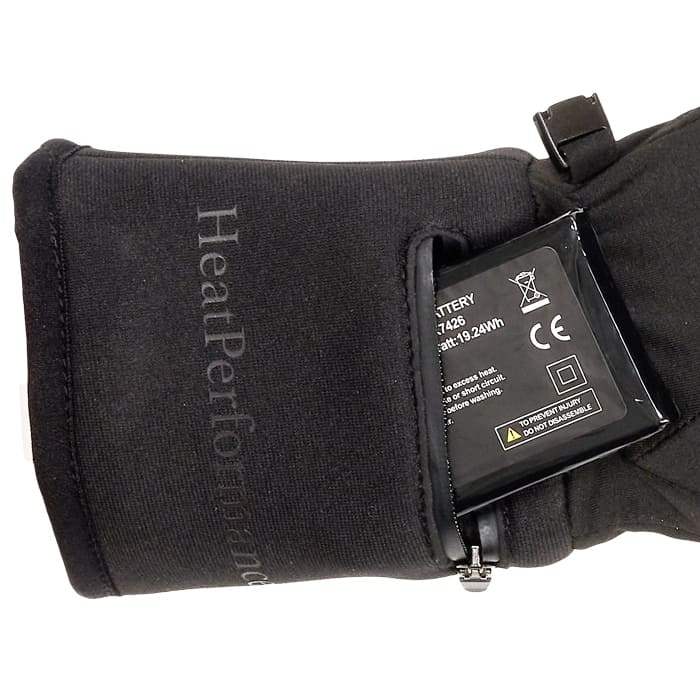 These lovely gloves are comfortable to wear around the house or office. You can grip anything you want with it without fear of damaging anything. This is because the heat conductors are on the outside, running down the back of the hand and across the back of each finger. These conductors consist of flexible, thin carbon wires that you do not feel while wearing.
The heat conductors are controlled by a smart chip that regulates the temperature in 3 modes. The powerful 2600 mAh – 7.4 V lithium batteries provide a minimum of 2 to a maximum of 7 hours of warm hands, depending on the ambient temperature and the heat setting you use. These batteries are the thinnest of their kind so they won't bother you while wearing your gloves. In a dedicated compartment – located on the inside of the cuff – store the batteries. A waterproof zipper keeps your batteries well protected.
The fabric of the inner gloves is thin enough that they give you enough freedom of movement, fine motor movements like writing or typing is not a problem. It does take some getting used to at first. The sensors in your fingertips play an important role in typing, making sure that you keep good contact with the keyboard and that, for example, you can also feel the dash on the "f" and the "j". When wearing gloves, there is a layer of fabric between your fingertips and the keys, which is a bit of a switch for your brain. But the discomfort of getting used to it is a lot less bad for me than the discomfort of cold hands.
By the way, on the tip of the thumb and index finger, we also applied touchscreen fabric. So without taking off your gloves, you can operate your tablet or perform simple phone operations.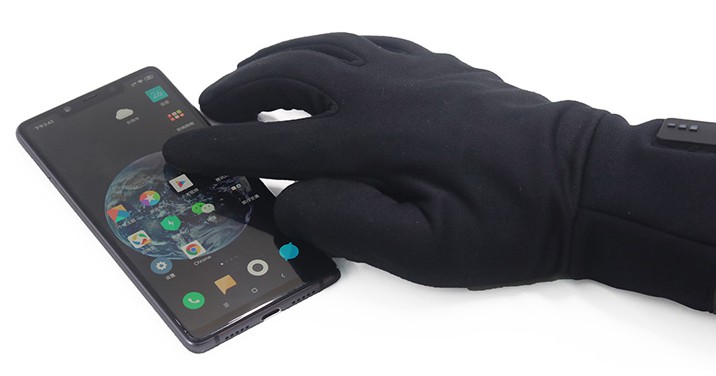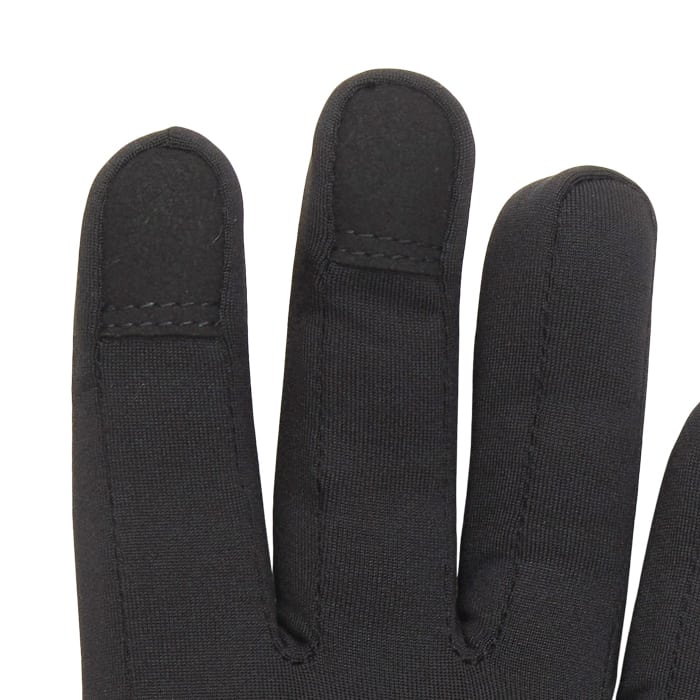 For the fabric we chose polyester, this material is hard-wearing and thus lasts very long. In addition, polyester is easy to wash without fear of your gloves shrinking.
So you can just do that too, wash your gloves. Go for a hand wash or put your gloves in a laundry bag and choose your washing machine's hand wash cycle. Do not tumble dry but let dry gently on your drying rack. Of course, you do remove the batteries beforehand and put the sealing cap back on the cable. Also take a moment to close the waterproof zipper of the pouch containing the cable.
When developing the inner gloves, we thought carefully about the fit. It had to be as close and snug as possible, so that you feel the gloves as little as possible while wearing them. At the same time, your fingers should not be restricted in their movements. That's why we've also added elastane, so optimal freedom of movement remains guaranteed.
Who are our indoor gloves for?
These heated gloves for the home are ideal for when you suffer from poor circulation. That poor circulation may have a cause (such as Raynaud's disease or a vitamin deficiency) but it could also just be that it belongs to you. As is the case with me. Many people can benefit from wearing heated indoor gloves, such as:
Do you often sit still for long periods of time, at home or in the office? For example, when working on the computer, reading or during meetings? Then you can quickly suffer from cold hands. Cold hands in the office contribute significantly to decreased concentration; with heated office gloves, you work a lot more relaxed and have less trouble keeping your head on task.
When working in a cold hall, which also involves fine motor movements.
If you sit still for a long time, such as during an evening watching TV.
While driving.
You can also use the gloves for outdoor use. Because they are so thin, they fit perfectly under your own gloves. Great for biking, on a long walk or on the scooter.
People with rheumatoid arthritis, diabetics or people with Raynaud's phenomenon.
heated gloves: Here's how they work
Detailed information on how our gloves work can be found here: how heated gloves work.
Step 1
Connect the batteries to the small cable located in the specially designated battery pouch.
Step 2
Press and hold the power button for a few seconds until the HeatPerformance® logo illuminates. Now the gloves are directly on in the highest setting.
Step 3
To warm up your hands nicely, use the highest setting for about 5 to 10 minutes.
Step 4
Depending on the ambient temperature, you can switch to the middle or lowest setting after this. To switch between heat modes, press the on/off button once briefly.
---
Then how long do I have warm hands?
How long your batteries last depends on the heat setting you use and the ambient temperature. Roughly speaking, you can say that your gloves will provide warm hands for at least 2 hours and up to about 7 hours. Unless you wear the gloves under your own, then they can last up to 8 hours.
In 4 hours, the batteries are fully charged again with the included dual charger. Optionally, you can also purchase a set of extra batteries so you can have comfortably warm hands all day long.
HeatPerformance® heated inner gloves INDOOR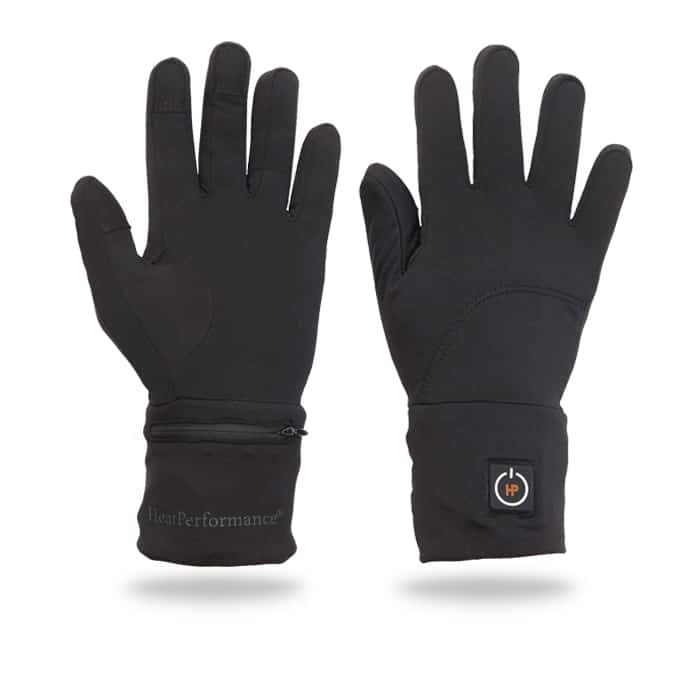 GBP 129,95
Ultra thin HeatPerformance® gloves for indoor use, in a comfortable soft and elastic fabric.
Warm hands all year round!