Are you already bracing yourself this winter because energy prices have gone up so much? And by now you're kind of done with all the tips you hear around you, like leaving your bath water out, keeping your curtains closed, insulating your home, taking shorter and colder showers and most importantly…turning the heat down a degree. Brrr, that's not what you're in for as a chilly person.
One degree down is a disaster for you. Your hands and feet feel cold all day. And soon that unpleasant cold migrates to the rest of your body, making you unable to concentrate properly, uncomfortable in your skin and preferring to book a one-way ticket to the sun. In short, time for tips that will help you stay warm indoors. Turning down your heating this winter will be a breeze for you!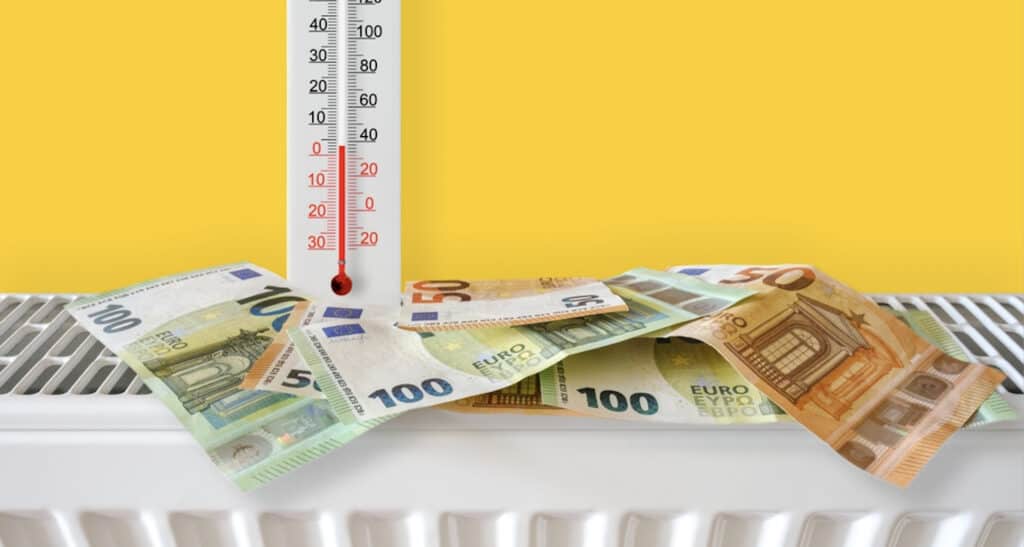 With these tips, turning down your heating will be a breeze!
Tip 1. Invest in a pair of heated socks
Often you notice the cold first at your toes and feet, before it extends to your legs and the rest of your body. So nice and warm those feet! But for many people, a pair of thick wool socks is not enough to keep out the cold. If you suffer from reduced blood flow, it is inevitable that your feet will eventually cool down. You can perform all sorts of gymnastic movements throughout the day to keep your circulation going, or you can simply put on a pair of electrically heated socks.
If you already have really cold feet, put your socks on the highest setting for 5 minutes or so. Once your feet are nice and warm you can move to the middle or lowest setting. Too warm feet is not nice either, and this way the battery will also last longer.
At HeatPerformance®, you can choose from 4 types of socks, from super thin to nice and thick. We start with the thinnest socks in our range:
HeatPerformance® ULTRA THIN
Want to wear your pretty ankle boots or a pair of dress shoes? Then thick socks often don't fit in there. Especially if you have wide feet, it is not wise to wear socks that are too thick as well. Not only does this hinder your circulation, but it also leaves you with no space between your sock and your shoe. Especially with cold feet, it is important to create space between your sock and shoe, as this layer of air functions as an extra layer of insulation.
That's why we had these extra thin heated socks developed. As thin as technically possible, because obviously the carbon conductors that give off the heat must be incorporated into the sock. The carb guides are designed to be as fine as possible and are subtly concealed in the sock. In short, the perfect sock for when you want to look neat but enjoy warm feet in the meantime.
HeatPerformance® THIN
Our THIN socks have the thickness of tennis socks and thus retain heat a little more than the ULTRA THIN model. They fit perfectly into your comfortable shoes, such as sneakers and winter boots.
All our socks feature 7.4V-2600 mAh ion lithium batteries. These powerful batteries last from 3 to 8 hours (depending on the ambient temperature and the heat setting you use) and are fully recharged in 4 hours with the included dual charger.
Are you planning to wear pants in a skinny model? Then having a battery above your ankle might not be so convenient. In that case, you can use our handy extension cables to carry the battery in your pocket. This is also convenient when changing your battery.
HeatPerformance® POWER
Even for the very coldest of colds, ice nuggets disappear like snow in the sun. Our HeatPerformance® POWER socks are our warmest variety for two reasons:
First, our POWER socks are nice and thick – as thick as ski socks – so they retain heat well. Great for evenings on the couch, in your slippers or other comfortable shoes.
Second, these heated socks are equipped with a 5.5 V heat system. Now that sounds a little complicated. Because the batteries provide 7.4 volts, right?
True, but that does not mean that the heat system can actually handle 7.4 volts. Indeed, at 7.4 volts, your feet would burn. To ensure safety, most heated socks are equipped with a 4.5 voltage heating system. In extreme conditions, however, it is very nice to have just a little extra warmth flowing around your feet. Yours truly can relate to that. On a very cold winter day, my feet remain cold in the very thickest lined winter boots. If not with these socks, in the highest setting I have warm toes in no time.
We set the chip that controls the heat to a higher voltage. Which does still feel pleasant. 5.5 volts, in other words!
HeatPerformance® PRO
These socks also have the same thickness as ski socks. The heat system is implemented in 4.5 volts. But then again, what's really nice about these socks is the remote control. No need to roll up your pant legs to operate your socks. If things get a little too hot for you, simply press the remote control and get back to what you were doing.
Want to be assured of warm feet all day long? If so, keep an extra set of batteries on hand. Also ideal for traveling!
Want to wash your socks? You can do that in the washing machine! Do take a moment to remove the battery and replace the provided cap on the cable. Put the socks in a laundry bag and choose a 30-degree wash at low rpm. Then hang the socks to dry on a laundry rack, not on the heater or in the dryer.
By the way, did you know that our products come with a 12-month warranty? In the unlikely event something breaks, we can repair it or replace your socks with a new pair free of charge.
Tip 2. Wear a pair of heated gloves (for in the house)
Ok, enough about those feet. Because what do I do about my cold hands? Gloves, of course! Huh? I'm not going to walk around the house with thick gloves, am I? Fortunately, this is not necessary at all. We have developed thin gloves especially for the home. These heated inner gloves fit snugly around your fingers and contain elastane so they don't restrict all your movements. Heat conductors are located at the top of each finger and on the back of the hand (dual heating). This allows you to grasp everything without worrying about damaging anything.
Meet our heated indoor gloves HeatPerformance® INDOOR
The gloves come in 3 heat settings. Use the highest setting to warm up the gloves, about 5 to 10 minutes. Then it's time to move to the middle or lowest setting.
The 7.4 V – 2600 mAh batteries provide 2 to 6 hours of warm hands. If you are working in a cold room, the batteries will naturally go dead faster than if you use them indoors at 18°C. And of course, the highest setting uses more energy than the lowest heat setting.
Also very nice: the tip of the thumb, index finger and middle finger are equipped with a touchscreen fabric. Unfortunately, you can't send long whatsapp messages with it, but simple actions on your tablet or smartphone will work.
From now on, you will never suffer from cold hands at home. And by the way…as undergloves, they are also quite suitable. Wear them outdoors under your own gloves and you'll be nice and warm on your bike!
Tip 3. A layer of extra clothing: heated clothing
Thought you had it all, there is such a thing as heated clothing. Did you always wear thermal leggings and shirt under your clothes in winter, nowadays you can also choose a heated version. Our heated undergarment set consists of leggings and a longsleeve t-shirt that keep you warm at the level of your knees, abdomen, lower back and upper back. Great for a day at home, when you sit still at the computer for a few hours or for when you want to finish that exciting series on the couch at night.
The underwear feels wonderfully soft to the skin, has a pleasant stretch so the clothing does not hinder you in all your activities. When turned on, the highest heat setting is initially turned on, after 5 minutes the heat system automatically switches to the middle setting. We wouldn't want you to get too hot unnoticed, hence this extra feature. If you still want to switch back to the highest setting, you can always do so manually.
An alternative to heated clothing is a heated seat cushion. Place it on your office chair for lovely warm thighs and buttocks. Such a pillow is also very handy on the go. You just roll it up and take it with you in your (hand) bag, arrived at the terrace, at the office or an evening at the restaurant you take it out again. I no longer leave the door without it!
What does it cost to charge a battery?
Most of your energy consumption goes into keeping your home warm, and every degree lower saves you about 7% on your energy bill. But charging a battery takes power, doesn't it? Totally true. And to have that comparison right, we pre-calculated exactly what it costs to fully charge an empty 7.4V – 2600 mAh ion lithium battery. These are the batteries we use for our socks and gloves.
For the calculation, we used the average energy price of Oct. 6, 2022: GBP 0.845 per kWh. By the way, that is quite a difference from the August 2021 price, when you paid only GBP 0.2103.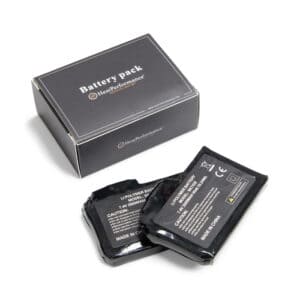 How was it again? The formula for the number of watt-hours is:
Amp-hours x volts = watt-hours
Our battery is 2600 mAh, so 2600 mili amps per hour. To calculate the amp-hour, we need to divide 2600 by a thousand. Our math becomes as follows:
2.6 Ah x 7.4 V = 19.24 watt-hours
19.24 watt-hours is 0.01924 kWh.
0.01924 Watt-hours x GBP 0.845 = €0.016
When charging, the charger itself also consumes heat and energy. In addition, you have 2 batteries to charge for a pair of gloves or a pair of socks.
So charging two 7.4 V – 2600 mAh batteries will cost you about 4 cents.
By the way, did you know that your battery doesn't have to be completely dead before you charge it? It used to be, with the nickel-cadmium battery, a "memory effect" occurred and the battery became lazy. With ion lithium batteries, this is no longer the case. It is even better for durability to charge these batteries when they are not yet completely empty.
Every disadvantage has its advantage. Being economical with energy is not only good for your energy bill but for the climate. With the above tips, you too will manage to turn that heating down a bit, without literally and figuratively sitting out in the cold!